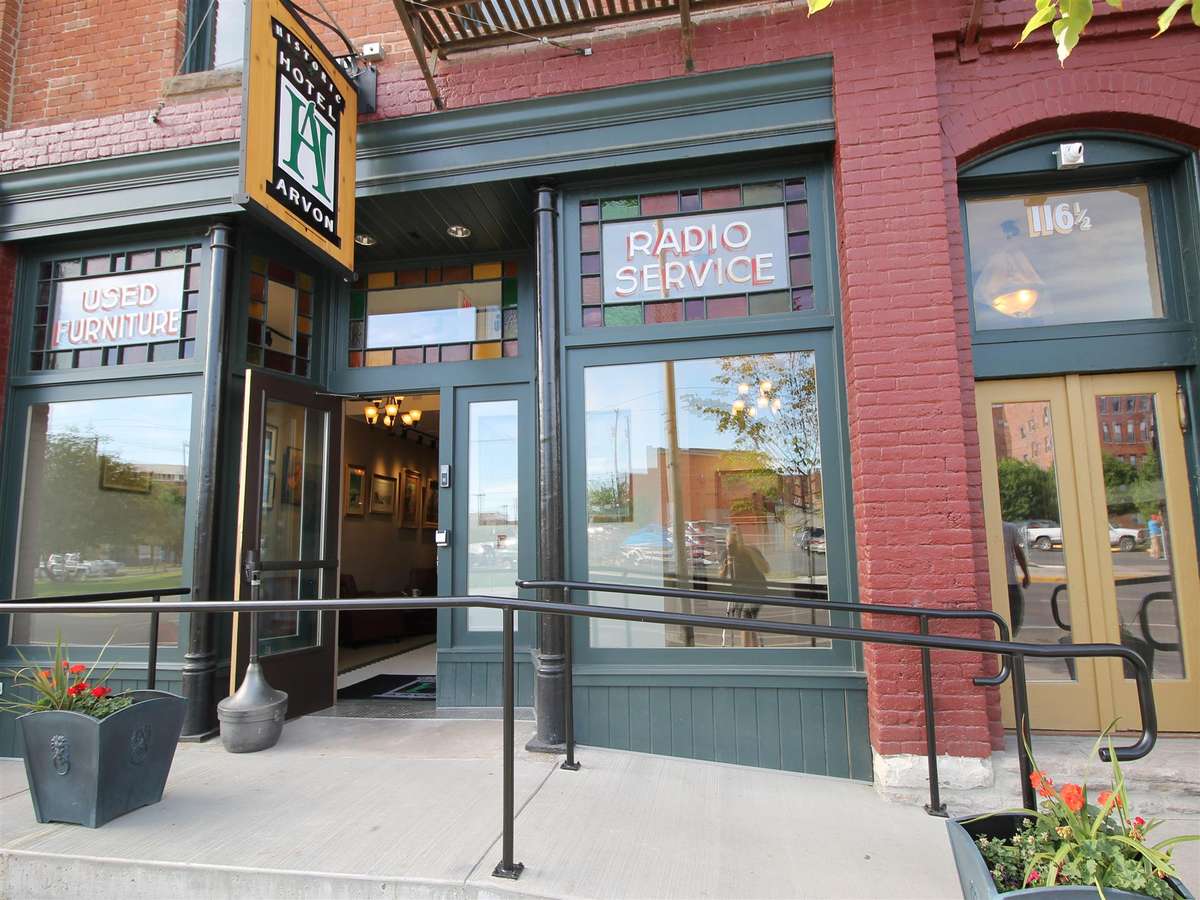 INFO & POLICIES
Cancellation and No Show Policy
Reservations can be cancelled up to 48 hours in advance with no cancellation fee. Any cancellations after the 48 hour allowed time period will be charged the first night room rate of the reservation. No-shows will be charged a fee determined by the hotel.
Pet Policy
We are a pet friendly hotel and have specific rooms designated as pet rooms. There is a $10 per pet per night fee and the front desk concierge will provide you with a pet policy to review and sign. There will be an additional $100 cleaning fee for pets not delcared to the front desk or staying in "non-pet friendly" rooms. Please make sure to notify front desk if you're bringing pets, so you are placed in a pet friendly room (based on availability).
General Information & Policies

Window Policy

The Hotel Arvon is located in a historic building. The historic architecture of our building lends itself to some unique characteristics. One of these characteristics is that some of our rooms do not have exterior windows as was common in a boarding house in the late 1800's. However, every room has a source of natural light. There are light wells bringing in natural light to the hallways and frosted hallway windows in some rooms while others have skylights. Only 15 of our 33 rooms have exterior non-operable windows. If you require an exterior window due to claustrophobia or similar conditions, please give us a call or leave a note on your reservation, and we will do our best to honor your request, depending on availability.

Safe, Secured, and Covered Parking

We have 2-hour parking out front Monday through Friday from 9:00 AM to 5:00 PM. There are five complimentary parking spots in the back of the property (through the alley) that you can park in and walk through the back door to the front desk to check-in. We also have several parking spots in the lot across the street from the property marked with Arvon Block signs. Once you have checked in, we have a parking garage that your room key will give you access to. Arvon Block LLC does not accept responsibility for loss or damage of property or vehicles in Hotel Arvon or Celtic Cowboy parking areas.

Shuttle Service

Shuttle Hours: 8:00am - 10:00pm We have a shuttle available which must be scheduled in advance to ensure timely arrival at the airport. Contact us ahead of time with your flight information if you will need this service. Please note that the shuttle only runs to the airport. For all other shuttle needs or additional transportation, we recommend 406 Blacked Out Taxi service. They can be reached at 406-781-5218 or at their website.

Check-In Policies

Credit Card required at reservation to guarantee room and must be 21 years of age to register. We are a non-smoking/non-vaping property. A $250 fine will be charged to any guest who smokes or vapes inside the hotel property. You will be responsible for any damages to your room or furnishings during your stay.

Celtic Cowboy Hours:

Mon - Fri 11:30AM - 2:00PM and 4:00PM - 8:00PM
Sat 10:00 AM-2:00 PM and 4:00PM - 8:00PM
Sun 10:00 AM-2:00 PM

We encourage hotel guests to walk into the pub and sit at a table. Due to the labor shortage, we currently have no host, so our staff will only know you need service if you are sitting at a table. Please say hi and let them know you are a hotel guest. They'll take good care of you!

Hotel Breakfast:

From 6:00 AM – 10:00 AM, a continental breakfast will be provided in the Celtic Cowboy Pub. Our breakfast drinks include locally roasted Morning Light coffee and a variety of teas. We offer a variety of cereals and oatmeal, granola, yogurt, breakfast burritos, vegetarian frittatas, coffee cake and juice.

COVID-19 has prompted the following changes to our operations:

Face Coverings are recommended to be worn in the public areas of Hotel Arvon and in the Celtic Cowboy if you are not fully vaccinated or experiencing cold or flu-like symptoms. We are taking extra measures to clean and sanitize each guest room and the public areas of the hotel for the health and safety of our staff and guests. By default, housekeeping staff will not be entering occupied rooms. If you would like your room serviced during your stay, please notify the front desk.