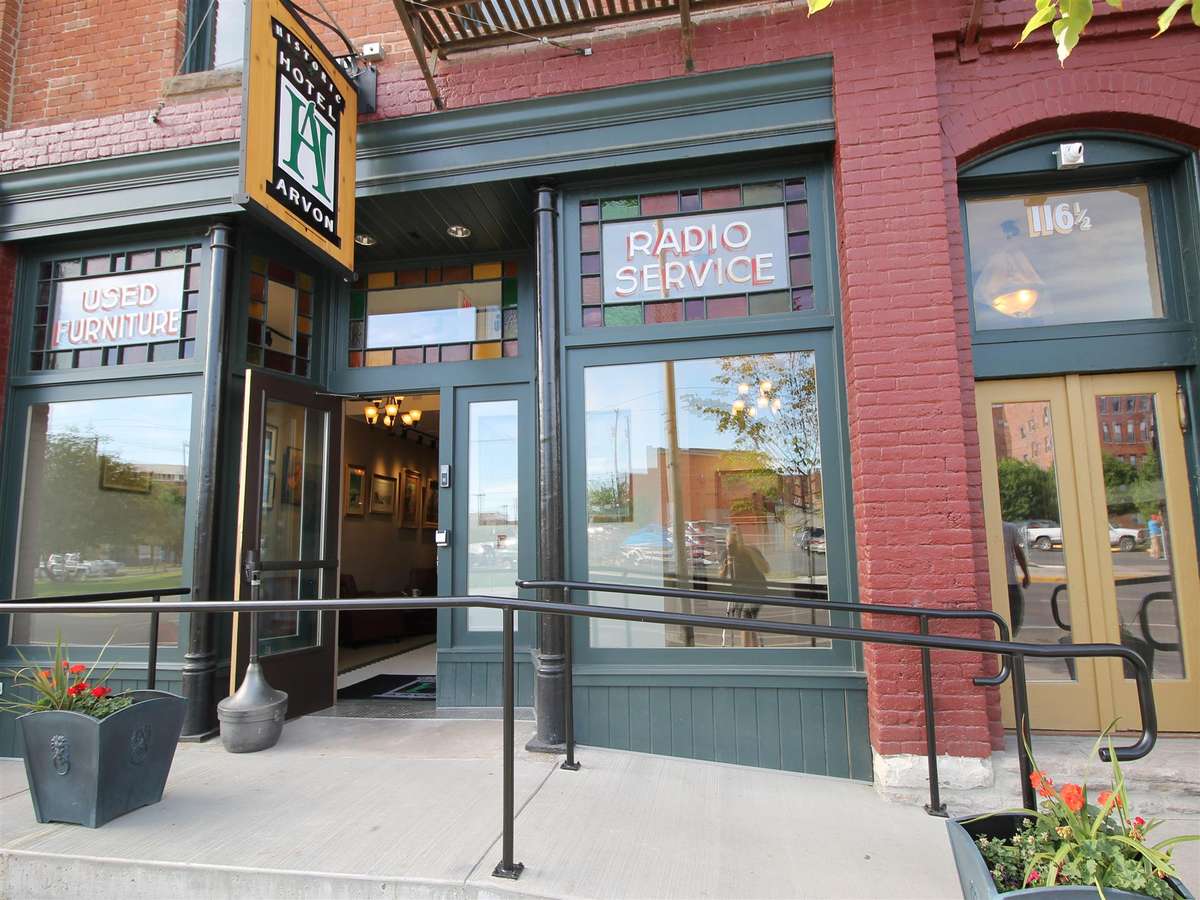 INFO & POLICIES
General Information & Policies
The Hotel Arvon is located in a historic building. The historic architecture of our building lends itself to some unique characteristics. One of these characteristics is that some of our rooms do not have exterior windows as was common in a boarding house in the late 1800's. However, every room has a source of natural light. There are light wells bringing in natural light to the hallways and frosted hallway windows in some rooms while others have skylights. Only 15 of our 33 rooms have exterior non-operable windows.
If you require an exterior window due to claustrophobia or similar conditions, please give us a call or leave a note on your reservation, and we will do our best to honor your request, depending on availability.
Check In
We will need a photo ID and credit card at check-in. If you have pre-paid for your reservation, the credit card will be put on file for incidentals. Check-in time is 3:00 PM or later
Check Out
Check-out time is 11:00 AM or earlier.



Cancellation Policy
All reservations must be canceled at least 48 hours prior to arrival to avoid penalty. Reservations that fail to show or cancel within 48 hours of scheduled arrival will be charged the first night's room and tax. Early check outs are subject to this policy.
Safe, Secured, and Covered Parking
We have metered parking out front Monday through Friday from 9:00 AM to 5:00 PM, and a quarter will get you through the check-in process. There are also five complimentary parking spots in the back of the property (through the alley) that you can park in and walk through the back door to the front desk to check-in. Once you have checked in, we have a few passes for the city lot across the street for large/long vehicles as well as a parking garage that your room key will give you access to. Our front desk concierge will show you on a map where our garage is located.
Amenities
We have several guest amenities available: VENDING/ICE MACHINE/FITNESS CENTER & GUEST LAUNDRY: You will find these amenities in the basement and can take the elevator down to access them. Complimentary drip coffee for guests is provided at the front desk.
Celtic Cowboy
Monday:
11:30 AM - 2:00 PM & 4:00 PM - 9:00 PM
Tuesday:
11:30 AM - 2:00 PM & 4:00 PM - 9:00 PM
Wednesday:
11:30 AM - 2:00 PM & 4:00 PM - 9:00 PM
Thursday:
11:30 AM - 2:00 PM & 4:00 PM - 9:00 PM
Friday
11:30 AM - 2:00 PM & 4:00 PM - 9:00 PM
Saturday:
10:00 AM - 2:00 PM & 4:00 PM - 9:00 PM
Sunday:
Closed
Complimentary Breakfast Included
Daily: 6:30 AM - 10:00 AM
A homemade continental breakfast is provided in the Celtic Cowboy pub, including house-made: breakfast burritos, egg frittata, granola, and coffee cake. We also offer a variety of cereals and oatmeal, yogurt, milk, apple juice, orange juice, coffee, and tea. Please ask our front desk attendant if you need anything and they will be glad to assist.
Park N Fly
We've got your vehicle covered while you travel. Literally. If you are staying with us but have to fly elsewhere during your stay, we will keep your vehicle safe in our covered, secure garage. Guest must stay at the hotel on the front and back end of their trip for at least one night each. Offer based on garage availability. The cost is $10 per day and includes a complimentary airport shuttle service.
Airport Shuttle
Shuttle Hours:
7:30 AM - 10:30 PM
We have an airport shuttle available which must be scheduled in advance to ensure timely arrival at the airport. Please contact us with your flight information if you will need this service.


Pets
We are a pet-friendly hotel and have specific rooms designated for guests traveling with their furry friends. There is a $20/night pet fee, and the front desk concierge will provide you with a pet policy to review and sign. There will be an additional $100 cleaning fee for pets staying in "non pet-friendly" rooms. Please notify the front desk if you plan to bring pets so we can ensure you have the right accommodations for your stay (based on availability).